You can add your own testimonial here.
Best in town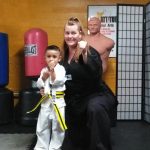 We love Ms. Jessica and the way she teaches she's tough but gentle all in one shows kids respect and responsibilities.My kids learn so much things with her and the fact that she loves them and treats us like family is more than what we can ask for!

Elizabeth Sanchez
My kids love it.
Ms. Jessica shows them discipline, patience, respect and much more! She's the best I would not go anywhere else!

Elizabeth Sanchez